Governs the Marbo School of Martial Arts and Survival (MSMAS), its groups and branches,
Trains and provides assessors for MSMAS, through the Pathwalker Guild Instructor Cadre (PGIC).
The PG issues all MSMAS Warrants of Instruction, Grading Certification and Scrolls. (See PGIC).
Provides Grading facilities for MSMAS (See Crogen*),
Manages The Sanctuary for [Full] members of The Pathwalker Guild (See Sanctuary*).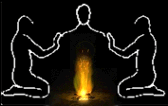 *The Pathwalker Guild governs both Crogen and The Sanctuary, selected members acting as Trustees co-ordinating training days, courses and Grading, also ensuring the conservation and improvement of both facilities through the PG Conservation Group. (See Governance).

The Pathwalker Guild is, above all, a private members organisation, a fraternity or brotherhood, which provides training that focusís on the skills required for self preservation and personal progression, physically and spiritually, regardless of race or religion.

The clear and consistent vision of The Pathwalker Guild is that of a close knit widespread community, attaining both personal goals and the honourable aims of the organisation.

Membership of The Pathwalker Guild is dependent on the candidate completing the MSMAS Basic Course (The Red Path - Apex Martial Art).
The Pathwalker Guild (PG) is an independent voluntary members only organisation.
The Pathwalker Guild
VINCIT QUI SE VINCIT